The Rosebud Bar
121 North Mill Street
Lexington, KY 40507
859-254-1907

Email

Monday through Saturday:
4 PM until 1 AM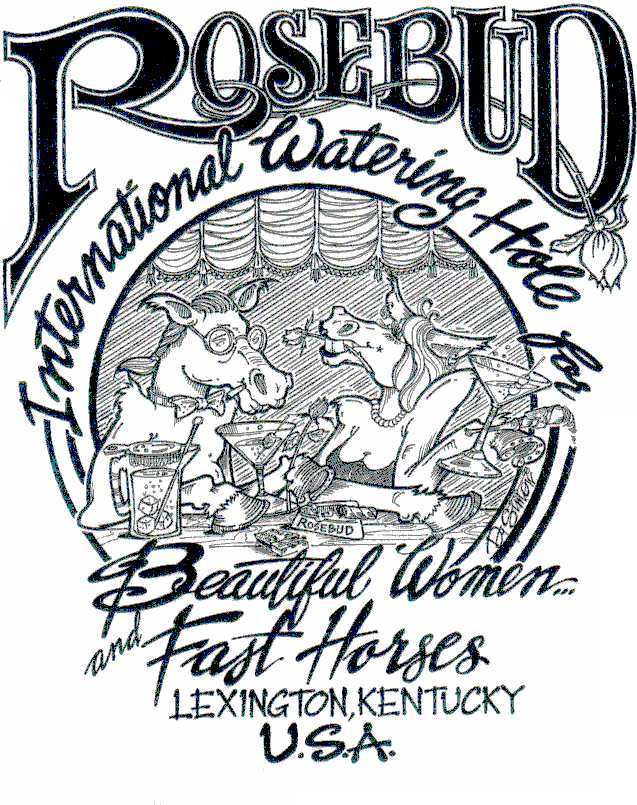 To reach any and all Kentucky senators and reps there is a toll free number: 1-800-372-7181. You can leave messages of support for bills or whatever for as many as you want.

Terry Gray
2004 candidate for House of Representatives.


---

Ban on smoking bans OK'd
Invoking the words of Ronald Reagan and the Founding Fathers, members of the Senate agriculture committee said they were upholding personal freedoms by unanimously approving a bill that would outlaw local smoking bans. By a 10-0 vote, lawmakers embraced Sen. Dan Seum's proposal, which would prohibit cities from banning public smoking in areas other than local government buildings. Under the bill, cities could require businesses to post entrance signs that state their smoking policies, giving adults the choice whether to walk into a smoky environment, the committee members said. Several supporters described the bill as "common sense."
Add your comments.
---
Smoking Ban Delayed Again
By Michael A. Lindenberger.
Fayette judge must rule on suit, appeals panel says. The Kentucky Court of Appeals ruled yesterday that Lexington's smoking ban can't take effect before a Fayette County judge rules on the lawsuit brought by business owners fighting the prohibition.
---
Smoking Ban Proposal Heats Up In Tobacco Belt
By Bruce Schreiner.
Sandy Fields, owner of downtown Rosebud Bar, said the smoking prohibition would put her out of business. The issue cuts deeper than economics -- Fields said the ban would infringe on personal rights, an erosion perpetrated by people wanting to impose their lifestyles on others.
---
January 13, 2004
Smoking bans face new threat in Senate
TOBACCO SETTLEMENT SHARE WOULD BE LOST
By Joe Biesk
ASSOCIATED PRESS

FRANKFORT - Kentucky local governments that impose smoking bans on private businesses would forfeit their share of the national tobacco settlement, under a proposal in the state Senate.

That could mean a loss of hundreds of thousands of dollars for communities that impose such bans, said Sen. Ernie Harris, R-Crestwood, the bill's sponsor. The forfeited money would be doled out to counties without bans, Harris said.

"You can't partially swallow a pill. You're going to have to swallow the whole thing," Harris said. "If you want the benefits that you perceive as coming from banning smoking, then the benefits that you receive from Phase I tobacco money need to go elsewhere."

The proposal comes after the Lexington-Fayette Urban County Council passed a ban on smoking in most private and public buildings last year. The ban would be the first in Kentucky, which is second only to North Carolina in the amount of tobacco it produces.

Lexington's ban is pending an appeal before the Kentucky Supreme Court and has not gone into effect. A similar idea has been discussed in Louisville.

Harris' plan is just one measure floating in the Kentucky General Assembly this year in response to proposed local bans on smoking. State Sen. Dan Seum, R-Louis-ville, has a separate proposal that would prevent such bans.

Harris, chairman of the Senate Agriculture Committee, said his bill is sort of a compromise. It allows municipal governments to impose bans on smoking, but it would take away their tobacco settlement money, he said.

Under the plan, local governments could still impose smoking bans on municipal buildings without losing money.

"Obviously, any municipal government can create a smoking ban in their own buildings," Harris said. "But I feel like they cross the line when they dictate to private enterprise -- bars, restaurants or whatever -- that people cannot smoke there. I think that goes too far."

The proposal contradicts a goal of the tobacco settlement money to curb smoking, said Joe Ewalt, a lobbyist with the Kentucky League of Cities. Instead of rewarding counties that try to reduce their numbers of smokers, it punishes them, he said.

House Speaker Jody Richards, D-Bowling Green, said he opposed the idea.

Senate President David Williams, R-Burkesville, said he did not have a position yet but that he normally leans toward local control on such issues.

Kentucky's share of the national tobacco settlement is divided up for different projects, including early childhood development, health-related issues and local governments. County governments get their share of that money based on their tobacco production.

In 2002, Kentucky counties divided more than $50 million in tobacco settlement money. Last year, they split nearly $22 million.

Fayette County received more than $820,000 in 2002 and $357,000 last year.
---
January 08, 2004
Kentucky.com

Smoke signals
Legislative leaders dampen ban-the-ban prospects
Thanks to the legislature's two top leaders for providing a welcome blast of fresh air and clear thinking on Lexington's public smoking ban.
Remarks by Senate President David Williams and House Speaker Jody Richards, reported by WEKU in Richmond, are especially reassuring after some of what's been coming from the state's judiciary.
First, there was the blathering defense of all things tobacco by a pair of appellate judges in October. Then, after a circuit judge and a three-judge appeals panel gave Lexington's smoke-free zone the go-ahead, the Kentucky Supreme Court, with no real explanation, blocked enforcement and scheduled a hearing for March.
The high court may be hoping to dodge the issue by waiting to see if the legislature prohibits local governments from enacting restrictions on smoking. Several bills to that effect are pending.
But Richards said the House does not seem inclined to interfere with what Lexington has done and other cities might want to do in the future.
"There have been times that we have pre-empted local authority on some things, not very often,'' said Richards, D-Bowling Green. "In fact, since I have been here, we have tried to have more home rule, have more things done at the local level, and we certainly think this is something that should be done at the local level.''
On the Senate side, Williams, R-Burkesville, said: "I'm not a big fan of smoking in public places, but my caucus has not taken a position on that particular issue at this juncture.
"I look forward to hearing the pros and cons, the economic impact and the health effects it has. You not only have to think of patrons of these places, but you have to think of the people that have to work there.
"I'm interested in hearing the comments about the smoking ban situation, and I think there will be some sentiment to let local governments have smoking bans if they so desire."
The health and economic questions raised by Williams got a thorough airing by Lexington's Urban County Council, which approved a ban on indoor public smoking by an 11-3 vote.
What the council learned, and what lawmakers will discover, is that the economic fears are mostly imaginary. No objective study has linked smoke-free laws to a downturn in overall restaurant and bar business in the many places that have enacted smoking restrictions.
The damage to health from inhaling secondhand tobacco smoke, on the other hand, is real and serious.
---
December 27, 2003
Kentucky.com
By Laura Yuen

Smoke ban fight goes to Capitol
STORM BREWS AS 3 STATE BILLS FILED TO FORBID LOCAL LAWS
The public furor over Lexington's smoking ban is growing into one of the noisiest and most vigorous brawls rumbling toward Frankfort.
That is where three state lawmakers have filed separate bills that would prohibit local smoking bans -- and possibly strike down Lexington's, which was enacted in July but has been blocked under a court appeal.
Forces on both sides are summoning their lobbyists for the tactical battle that begins Jan. 6, the first day of the legislative session. Interests from all corners -- from farmers to retailers to county magistrates -- are itching for a punch.
"We'll be on the side of the gods on this one," said Dr. Andrew Pulito, a pediatric surgeon and president of the Kentucky Medical Association, which has vowed to attack attempts by the legislature to preempt smoking ordinances.
Pulito and his allies are framing their argument around public health and the idea of home rule: The government closest to the people should control local decisions.
They would be foolish to underestimate their opposition though. Twenty states across the nation already preempt some form of local smoking bans, and many did not get there without telephone banks or letter-writing campaigns sponsored by bar, restaurant and gaming associations -- and sometimes, tobacco giants.
Pointing to cigarette makers' own internal documents, anti-smoking forces call statewide preemption the No. 1 weapon of tobacco firms.
Although the companies cannot spar with every locally enacted smoking ban, they can saw down the clean-air movement at the state level, said Robin Hobart, author of the American Medical Association's guide to fight preemption.
"These local ordinances terrify the tobacco industry," Hobart said. "You'll see a real commitment to shut this down. And the fact that this happened in Kentucky completely freaks out tobacco executives to see how far this has come."
David and Goliath?
One of the 20 states with a law that supersedes local smoking bans is California. Although the law prevents local communities from passing individual smoking bans, it imposes a strong statewide ban in enclosed workplaces.
In most cases, however, states that deny local communities the right to regulate smoking do not have such rigid statewide smoking bans.
When voters in Helena, Mont., last year approved by referendum the toughest ordinance in the state to combat public smoking, health advocates rejoiced in what seemed like an end to their three-year campaign.
Six months later, they hit a snag when a city court suspended the ban indefinitely on a legal challenge.
Far more devastating, however, said attorney Jim Reynolds, was passage of a bill in the next legislative session that prohibited communities from banning smoking in casinos and other facilities that carried video gambling machines.
It followed a series of preemptive attempts by the gaming and tavern industries to retroactively erase Helena's ban, said Reynolds, who represents a host of health groups and residents suing the state.
The bill floated swiftly through the Montana legislature, which was fixated on a budget shortfall, Reynolds said. In exchange for the smoking reprieve, casinos had to pay a surcharge to the state.
"There was all this hand-wringing about 'Where will we get the money? Where will we get the money?" Reynolds recalled. "It was a little bit of tit for tat: We'll impose more of a tax on you, but we'll give you freedom from these smoking ordinances."
Caught off-guard, his network of advocates from all over Montana could not rebound, even via e-mail alerts. Within weeks, the bill became law. "I felt like it was a sneak attack," he said. "It just struck me as so unfair."
Mark Staples, attorney for the Montana Tavern Association, remembers it differently. Legislators were moved by the testimony of everyday, apolitical Helena business owners, many of whom claimed losing as much as 40 percent of their business because of the city's smoking ban, he said.
The state, which collects more than $40 million a year in gaming taxes for city, state and county governments, knew it would have to fill the budget hole somehow. "It prompted the legislature to say, 'We think the cure here that Helena imposed is worse than the problem, and it's going to cause a problem for us,'" he said.
Staples also bristles at his foes' suggestions that he and his allies are fronting Big Tobacco, which has not been involved at all in Helena's fight, he said. The national health groups that parachuted into his city were the real big guns, he contends.
"This is a national, monolithic health police imposing on local small businesses," Staples said. "They're certainly misrepresenting who's David and who's Goliath."
Tobacco money flows
Whether cigarette makers such as Louisville's Brown & Williamson or Philip Morris U.S.A. will join the fight at Kentucky's state level is not clear. They are not saying what their involvement, if any, will be.
Brown & Williamson has donated an undisclosed amount of money to a legal fight challenging Lexington's shelved smoking ban. The case, which will be heard by the Kentucky Supreme Court in March, argues that state statutes already preempt local smoking ordinances.
If tobacco does join the fray, however, it will have both brawn and bucks. Last year, tobacco interests shelled out nearly $400,000 over eight months lobbying Kentucky legislators on a number of other issues.
Philip Morris outmuscled every other company or organization that hired contract lobbyists, spending about $186,291 from January 2002 to April 2003, according to an analysis of lobbying expenses by a Frankfort-based public affairs newspaper, The Kentucky Gazette. The lion's share went to James "Jitter" Allen, the highest-paid and one of the most influential contract lobbyists in Frankfort.
Philip Morris also has donated money to Kentucky Farm Bureau, which is now pledging opposition to local smoking bans. In 1997, the farm bureau accepted a $5 million grant over five years to help burley growers boost their incomes.
Tobacco companies also have chipped in small donations to campaign coffers of state legislators, including two out of the three authors behind this session's preemptive bills.
Rep. Dottie Sims, D-Horse Cave, has accepted $550 from Philip Morris over the past five years, election finance records show. Sen. Dan Seum, R-Louisville, was given $600 from Philip Morris and Brown & Williamson last year.
Ban proponents such as Lexington Vice Mayor Mike Scanlon and state Sen. Ernesto Scorsone, D-Lexington, also have netted money from tobacco in past campaigns.
Gov. Ernie Fletcher, who might be charged with signing or vetoing a bill governing smoking bans, has received about $75,892 from tobacco interests since 1997, according to a report by the National Center for for Tobacco-Free Kids and Common Cause. That amount is in line with what many other U.S. lawmakers from Kentucky received.
Fletcher, a Lexington physician, has said during his campaign that he would not support Seum's bill because of its restrictions on local control.
Readying for battle
State bills that would override local smoking bans can count on help from groups such as the Kentucky Retail Federation and Kentucky Restaurant Association.
"If there will be a smoking ban in Louisville, people will-drive across the bridge -- it's that easy," said Stacy Roof, president of the restaurant group.
Kentucky Farm Bureau opposes smoking bans because they invade business owners' property rights, spokesman Gary Huddleston said.
Burley growers also might fear that Lexington's smoking ban could signal a "bellwether trend that could spread wider and farther," he added.
"On one hand, a specific community's action is not going to have a significant impact on the international tobacco market," Huddleston said. "On the other hand, if 90 percent of communities ... would follow the lead of what happened in Lexington or what's being considered in Louisville, you are looking at something that can have an impact."
The anti-smoking forces also pose a formidable challenge though. In the 16-month period that Philip Morris outspent all other groups on contract lobbying, the No. 2 spot was filled by the Kentucky Medical Association, which paid out $164,934 to lobbyists.
The American heart, lung and cancer associations are lining up under a coalition that has billed itself as a "preemption strike force."
The obvious ban proponents are also getting a hand from advocates of local government, such as the Kentucky League of Cities, Kentucky Association of Counties and the Kentucky Magistrates and Commissioners Association.
On philosophical grounds, some of these statewide groups probably would not support a ban such as Lexington's, which prohibits smoking in nearly all indoor public places, officials said. But they say their local autonomy was too precious to risk losing.
Next-door battles
Other than Kentucky, a cluster of states, including Georgia, Missouri and Arizona, are expected to be key battlegrounds for similar bills, said Bronson Frick, associate director of Americans for Nonsmokers' Rights. "This will be one of the busiest legislative sessions ever over the issue of local control," Frick said.
Kentucky's anti-tobacco watchdogs could learn from their neighbors.
Volunteers with West Virginia's tobacco-free coalition obsessively pore over any new bills filed in the legislature, said Bruce Adkins, the state's director of tobacco prevention. They look for last-minute amendments in innocuous places, such as bills on topics ranging from revenue to well-drilling.
The activists have hired their own lobbyist, whom they fondly call their "preemption killer." They are wired, and dozens can show up at the Capitol in a moment's notice, Adkins said.
"We can put out an alert to all of these members, and they can literally get the message to thousands of people. We can inundate legislators' phone lines," Adkins said. "They hate us."
The biggest weapon though might be in old-fashioned lobbying of the lawmakers themselves.
In Kentucky, one of the sponsors of preemption, Rep. J.R. Gray, D-Benton, contends that Lexington's council simply got it wrong when it enacted the ordinance.
"It's a decision they don't need to get into," Gray said. "It goes totally in contrary of the wishes of the people who live there and the people who own and operate businesses of that area. I don't think they have read the will of their constituents."
Gray's mind might be made up, but Lexington's government lobbyist and council members such as Dr. David Stevens will be working on others, starting first with Lexington delegates.
Stevens envisions a split between urban and rural legislators. The latter, he said, would be more likely to dismantle local ordinances.
"They don't like Lexington, Louisville or Northern Kentucky, and for us to take action against their beloved farmers is something they don't like," said Stevens, a retired orthopedic surgeon and Louisville native who grew up in Seum's district.
Seum, however, said anti-smoking forces are asking for too much. He is thinking about amending his bill to allow communities to go smoke-free as long as they relinquish any money from the tobacco settlement or other tobacco revenues.
Fayette County's health department receives about $145,000 a year in tobacco settlement dollars to help pay for programs to help people quit and keep children from starting.
"They're obviously addicted to the tax dollars," Seum, a former restaurant owner, said. "They don't get it both ways."
The fracas over local smoking bans, however, will be only one major tobacco issue to court the legislators' attention. Health advocates and a bevy of other groups will be pressing for a boost to the state cigarette tax, the second-lowest in the nation at 3 cents a pack.
Anti-tobacco activists fear a horse swap of the two though: A cigarette tax could be granted at the expense of the local clean indoor air laws. Both are needed to reduce Kentucky's smoking rates, the highest in the nation, said Amy Barkley, a youth tobacco prevention advocate leading the preemptive strike force.
"It's not a thing we can bargain with," she said. "There will be no trading off."
In addition to the three bills that have been pre-filed for the upcoming session, national anti-smoking advocates such as Frick warn to look out for more under every nook and cranny for bills that usurp local control.
Last year, a Mount Vernon state legislator unsuccessfully tacked onto a pesticide bill an amendment that would limit cities' rights to pass smoking bans.
"It's like playing Wack-a-Mole," Frick said, "and the fight's never done."
---
October 18, 2003
Kentucky.com
By Laura Yuen

Lawyers to study smoking ban issue
Lawyers representing both sides of the smoking-ban debate expected a ruling yesterday on the challenge against the ordinance.

Instead, they each left the courtroom with assigned homework.

Fayette Circuit Judge Laurance VanMeter asked attorneys for the city and the Lexington-Fayette County Food and Beverage Association to read up on several court cases before he makes a final call on whether to dismiss the suit. Meanwhile, enforcement of the ban will continue to be postponed.

The court opinions weigh private rights against public health and examine laws that range from sewer hook-ups to the fluoridation of drinking water. "Those cases have never been addressed, and I think they should be," the judge said. He ordered lawyers to prepare briefs on how the cases might affect the suit and to file responses within 15 days. That means VanMeter could decide the case as early as Nov. 3.

Observers noted that's one day before Election Day, when voters will choose whether to elect VanMeter to the Court of Appeals. He's running against interim appeals court Judge Lewis Paisley.

"When a person's going to be before voters in a few weeks, making a decision right now would not be politically wise," said Urban County Councilman David Stevens, who helped lead the fight for the ban. VanMeter declined to comment on the timing of the election and the suit.

The ban, the first of its kind in Kentucky, would prohibit smoking in nearly all public buildings. It was slated to begin Sept. 29.

VanMeter said his mind had not changed over the food and beverage group's other arguments. Last month, he denied a motion to temporarily halt the ban because he did not think that the ordinance was pre-empted by state law or that it was written too vaguely, as the association had contended.

The Court of Appeals overturned his decision last week and halted enforcement of the ban until he could rule on the merits of the case. He hinted yesterday he might not call for any more oral arguments. "Do you really think we need to have another hearing?" he asked the lawyers.

John Walters, an attorney for the group challenging the ban, said he had hoped to bring in three of the association's officers -- Dave Whitson of Cadillac Ranch, Larry Dean of A1A Entertainment Complex and Greg McFarland of World Famous Two Keys Tavern -- to testify on how the ban could affect their business.

The group also is adding a new argument to the debate: Because the ordinance requires the removal or disabling of ashtrays and other "smoking paraphernalia," retail stores couldn't sell lighters or ashtrays or matches, he said.

When granting the injunction, the appellate court order agreed the language could have "open-ended" ramifications.

"A Wal-Mart, a convenience store, anybody like that apparently under the ordinance has to remove all those things from their store," Walters said. "You have to read the law by exactly what it says. If you have to read intent into it, then the law is too vague and should be rewritten."

Lawyer Phil Scott, arguing for the city and health department, dismissed Walters' notion. "Judge VanMeter has clearly not changed his opinion on the underlying issues here," he said.

If the judge dismisses the case, the food and beverage group intends to appeal and ask for emergency relief. Still, Scott said he hoped the law would go into effect by Thanksgiving.
---
October 7, 2003

Smoking Ban Delayed Again
By Michael A. Lindenberger.
Fayette judge must rule on suit, appeals panel says. The Kentucky Court of Appeals ruled yesterday that Lexington's smoking ban can't take effect before a Fayette County judge rules on the lawsuit brought by business owners fighting the prohibition.
---
Posted on Sat, Sep. 27, 2003: Kentucky.com
Inhaling victory
SMOKING BAN IS PUT OUT FOR NOW
By Laura Yuen
HERALD-LEADER STAFF WRITER

It was supposed to be a special night, so Mariam Rastegari made sure to bring only the best, a Cuban Trinidad, when she headed out for Nicholson's Cigar Bar. She imagined indulging in a final, fleeting puff last night among friends, just three days before the city was to stamp out smoking there and in nearly all other public places in town.

But instead of mourning what was to come Monday, Rastegari puffed away in celebration.

Two state courts sent a message to Lexington yesterday: Smoke 'em while you got 'em.

Rastegari and others in smoke-filled haunts across the county last night were reveling in two back-to-back legal victories.

First, a three-judge panel of the Kentucky Court of Appeals delayed the ban by reversing a lower court's decision and then the Kentucky Supreme Court declined the city and health department's plea to step in.

The postponement could be a short one. On Oct. 6, the state Court of Appeals will hear arguments for and against a longer injunction that would delay the ban until Fayette Circuit Judge Laurance VanMeter rules on a suit that challenges the no-smoking law.

The ordinance had been on track to begin after VanMeter denied an earlier request by an alliance of bar and restaurant owners to halt it.

"We're very happy with the order and the fact that the court of appeals will give more consideration to the issue," said John Walters, the attorney representing the Lexington-Fayette County Food and Beverage Association. "It's just an initial step of the overall goal."

But Phil Scott, an attorney representing the health department and the city, said the appeals court didn't state how VanMeter erred in his ruling or address the merits of the restaurant group's case, as it should do when overturning a lower court's decision on injunctions.

"The Court of Appeals has done something they have no authority to do," Scott said.

The appeals panel included judges Sara Combs of Stanton, Robert Dyche III of London and Wilfrid Schroder of Crestview Hills.

The panel issued its order around 12:30 p.m. yesterday. VanMeter, the order noted, agreed that the bar and restaurant group would "suffer immediate and irreparable injury" if the ban were not postponed, while the local government would not suffer if an injunction were imposed.

"Nonetheless, the circuit court denied relief," the order continued. "This court holds that it is equitable and judicious to preserve the current status quo" while it reviews whether the restaurant group has a case, the order said.

Scott responded: "If that were the test for injunctive relief, it would overturn three to four decades of law. They of course cite no cases."

He and his team of lawyers scrambled to file a motion asking the Kentucky Supreme Court to step in. But around 4:30 p.m., the high court justices handed down another blow: The city and health department, the order said, failed to "show any extraordinary cause" to overturn the injunction.

The much-debated smoking ban, the first of its kind in Kentucky, would make it illegal to light up in nearly all buildings where the public is allowed. Restaurants, bars, bingo parlors, pool halls, convenience stores and gas stations are among the list of places where the ordinance would apply.

In bowling alleys, pizza parlors and bars last night, smokers rejoiced. At Ramsey's restaurant on High Street, a roar of cheers went up when a waitress announced the news. Rob Travers, who manages Lynagh's Pub, called the delay a "stay of execution."

Inside the pub, several customers had come for a last meal in a smoke-filled room.

"I wanted one last night at Lynagh's," said Judy McCormick of Lexington, who sat smoking with her husband, Mack. Both heard the news yesterday afternoon, but decided to come anyway because "we already had the baby sitter."

Bowler Paul Knight at Collins Eastland Bowling Lanes discovered this week that workers had already begun removing ashtrays in anticipation of the ban. "A lot of the bowlers are not going to be back here. They're going to Nicholasville and other places," Knight said.

Many feared a ban was inevitable.

"An injunction is like a time out in football," said Kevin Walasinski of Georgetown, an attorney who joined two buddies over a cigar with homemade rum cake at Nicholson's. "But ultimately, the courts will say, 'Lexington has passed this ordinance, and we are not going to second-guess what is perceived as the will of the people.'"

That's what ban advocates are counting on.

On Oct. 6, if the appeals court denies the injunction, Scott intends to ask VanMeter to drop the entire lawsuit. If VanMeter does dismiss, Walters said he will be ready to appeal all the way up to the Supreme Court.

"This law will prevail," said Ellen Hahn, an anti-smoking advocate and professor at the University of Kentucky's College of Nursing. "For every day this ordinance is delayed, more and more people are at risk of asthma, lung disease and heart attacks."

For however long the delay might last, smokers will continue to have a last hurrah.

Yesterday, Nicholson's, the cigar bar, gave out free tequila glasses and discounts on dishes, drinks and, of course, cigars. Said manager Tony Atwood: "I don't know what they did before Prohibition started, but I suppose it was something like this."
---
What about choice?
In her Aug. 22 article, "Health advocates, bar owners meet," Laura Yuen wrote that public health advocates had imagined some sort of celebration for when the smoking ban goes into effect. A celebration would be a gruesome response to what is really going on.
What is going on with the smoking ban adds up to a training exercise in totalitarianism. It's an ancient and very sad tale. A tiny group of elitists with tall tales of dragons at the village gate frighten the population, who give political power to the elitists, who use the power for their own selfish purposes. The purpose of our elitists is to remake society to suit themselves, by forcing everybody to march to a tune of the elitists' choice.
The web site of Kentucky ACTION brags that Lexington has 204 smoke-free restaurants. That's an awful lot of choice for people who can't tolerate smoke. But that's not enough for the elitists.
Not everybody is marching in step. That cannot be tolerated. The unenlightened cannot be allowed to do their own thing. Doing their own thing is only for the enlightened.
"Level the playing field," some say, meaning, "Get everybody in lock step, marching under the same flag." "Equality," they say, meaning "equal repression for all." Some cheer such words, forgetting how Hitler leveled the playing field for Jews and made them all equal.
One might expect a Hitler to celebrate repression of a minority, a defeat of free choice. But American public servants? Kentuckians?
William H. Rees
Brooksville
---
August 28, 2003

Bill to kill smoke ban proposed
Senator wants to nullify Fayette law, bar others
By Laura Yuen And Jack Brammer

As the debate over public smoking lights up in Louisville, a state senator from that city wants to invalidate Lexington's smoking ban and forbid other local communities across the state from crafting similar smoke-free ordinances.

Sen. Dan Seum, R-Louisville, says he will start drafting a bill next week that would preclude cities and counties from outlawing smoking in restaurants and other private businesses. The bill would be considered during the legislative session that begins in January.

Seum said he would pen the legislation so it would retroactively knock down Lexington's ban, which is on the books and set to go into effect Sept. 29.

"I don't think the government has any business enforcing such a ban on privately held companies," Seum said. "Some of these local entities want to control our lives, and we shouldn't let them."

Seum, a former pizza restaurant owner, has earned a reputation for prizing individual rights. He succeeded in getting the state to repeal a law that mandated helmets for motorcycle riders and also helped bring down Jefferson County's vehicle emissions testing (VET).

"He was known as the VET-slayer," said Jeff Klusmeier, a Louisville activist who teamed up with Seum to fight the emissions testing. Now, Klusmeier is mobilizing the "Freedom Campaign," a group that hopes to cease Louisville's consideration of a smoking ban.

State Rep. Kathy Stein, a Democrat from Lexington, grimaced at Seum's plans. "The thing I have never quite figured out is the paradox of conservatives who say we need local control, and that higher governments don't need to be passing down mandates," Stein said.

"That seems to work on one end, but then we see these sort of bills that try to undermine the authority of local control."

Seum said he generally favors "home rule," the power given to municipalities to govern on local matters, "but sometimes local governments just go way too far, and forget that adults can make the right decisions."

"It boils down to a thing called tolerance," said Seum, who does not smoke. "We're supposed to be tolerant of others' lifestyles, others' beliefs, but we are not tolerant on the issue of smoking."

But does Seum have the right to usurp ordinances that have already been chiseled into the books? "He's whistling in the dark," said state Sen. Ernesto Scorsone, D-Lexington. "I don't think it would pass in that format, and I don't think the courts would ever allow it."

But Douglas McSwain, a lawyer who represents municipalities, said state laws can work retroactively as long as the legislation specifically declares it to do so. Although there may be exceptions if the law concerns one's "vested right" -- which are generally property rights -- McSwain did not think freedom from secondhand smoke would fall under that label.

Stan Lee, a Republican state representative from Lexington, said Seum's plans would give the General Assembly the chance to further analyze the issue of smoking bans.

"We obviously have more resources to bring in experts and have maybe even more of a full analysis than what was done in Lexington," said Lee, who noted the state's dependence on tobacco. "Ultimately, what Lexington has done is not in the best interest of the state. ... A lot of citizens in Fayette County believe the city did not give full and fair hearings on this issue."

The Urban County Council studied the ban for more than a year before approving it July 1.

Seum's intent to usurp local control ruffled Lexington Vice Mayor Mike Scanlon. "Somebody doing something stupid like this makes their cause look worse," Scanlon said. "This is not a credible effort."

Councilman David Stevens, a retired surgeon, said the Lexington Medical Society is asking the state medical association to lobby against pre-emptive legislation.
If anything, people on both sides of the fence agree that the matchup in Louisville, and for all of Kentucky, has just begun.

"It's going to get nasty," said Klusmeier, of the Freedom Campaign. "People were shocked when the ban passed in Lexington. People in Louisville are not going to let it happen here."
---
April 16, 2003
Kentucky.com Lexington Herald-Leader

Health board backs off smoking ban
WANTS TO GIVE CITY TIME TO ENACT PROHIBITION
By Laura Yuen

One day after the Board of Health firmed up a May date to vote on a proposed smoking ban, it appeared yesterday to lean away from that commitment and to let Lexington's city council retake the lead -- for now.

The turnaround came yesterday morning after Vice Mayor Mike Scanlon called county health commissioner Dr. John Poundstone and asked him to lie low while the council spends the next two months trying to reach a consensus.

Poundstone, who had joined other board members in publicly grousing over the council's slowness, said he now would be willing to wait for a council ordinance to outlaw public smoking.

"He says they're going to come up with something," Poundstone said of the vice mayor's request. "I'm taking Mr. Scanlon at his word. Let's face it, we've got to work together on this."

The health department's apparent reversal represents another twist in a yearlong debate that has seen the hot-potato issue shift between the council and health board. A decision by either body will most likely wait for two more months.

As of now, city council members who want a ban agree that they are scattered in their support: Some favor an across-the-board prohibition in all public places, some want only smoke-free restaurants and bars. Some favor exemptions for businesses that separately ventilate their smoking areas, and others shudder at the idea. A committee of seven council members has agreed to craft the ideal ordinance, or reject the ban altogether, within two months.

"You've got to understand, this is a tobacco county, we are making radical proposals on the issue of public smoking, and it's going to take time," said Scanlon, a restaurant businessman who favors a ban in all public places. "The health department has very good intentions, but they need to let us do our jobs."

But in his conversation with Poundstone, the vice mayor said he good-naturedly dangled another reason for the health board to stay quiet: A health tax being explored by the health department would need approval from the council. "The health department is coming to the council asking for teamwork for building this new revenue source, and at the same time criticizing us for not acting fast enough," Scanlon said.

Councilman Bill Farmer agreed. "They just need to stop rattling the saber on us," he said. "For them to chide us in public does not create an atmosphere for the two entities to work for the public good."

From the beginning, anti-smoking forces have pressed the council to pass an ordinance because it would probably withstand legal challenge more easily than would a health regulation. With little discussion, the health board agreed Monday to vote on May 12 to tie in a no-smoking regulation with the licensing of all food-service establishments. It would have been enforced by the health department.

Yesterday, Poundstone started asking other board members to consider postponing the vote. Their reaction was less cheerful agreement than "begrudging acceptance," he said. At least one board member, Chairman Ray Hill, said he hopes the board will stick to its original decision and vote the ban up or down in May. Hill will be out town for the May 12 meeting.

"The problem is that they've been studying this damn thing to death," board member Dr. F. Douglas Scutchfield said of the council. "But I'm willing to ... put off the vote for another 30 days and see what happens."

But come June, Scutchfield said, if the council shies away from the ban, the health department would gladly pick up the cause.

Reach Laura Yuen at 859-231-3309; 1-800-950-6397, Ext. 3309; or lyuen@herald-leader.com.

---
April 15, 2003
Kentucky.com Lexington Herald-Leader

After council delays vote on smoking ban, board steps in
FAYETTE LEADERS DRAGGING FEET ON ISSUE, HEALTH OFFICIALS SAY
By Laura Yuen

Charging that Lexington's city council has dragged its feet on the question of a possible smoking ban, members of the Fayette County Board of Health reclaimed the issue yesterday and circled a date to vote on it themselves.

The health board, made up mostly of doctors and other health professionals, will decide May 12 whether to stamp out smoking in all places that prepare and serve food.

The agreement came just a few hours after the Urban County Council's services committee called for at least 60 more days to ponder the proposal, which the council first took up more than a year ago.

"Our feeling is that they were stalling," said Dr. Charles Rolph, a dentist and health board member.

That assessment comes a month after the 13-member board temporarily backed off the issue to gauge the council's commitment to banning smoking.

Dr. John Poundstone, the county's health commissioner, said he would like yesterday's maneuver to prod the council to move more decisively to wipe out smoking in all public places, the ultimate goal for many ban advocates. The board has been advised that such a ban would be better suited for the council because an ordinance can more easily withstand a court challenge.

"I just hope this will spur them on to get serious," Poundstone said. "We felt we needed to get serious about moving on. Secondhand smoke is toxic and poisonous."

Some members of the council, he added, "are just hoping this will die."

The regulation would prohibit smoking in any "food-service establishment" -- from typical eateries to bowling alleys that sell pizza. Even bars that cut up lemon wedges to slip into iced teas would fall under the ban because those businesses are licensed by the health department to prepare and serve food.

Many food-serving businesses, such as bingo and pool halls, may not have tuned in to the debate, Poundstone conceded. "On the other hand, we haven't heard from them to keep smoking" in their businesses, he said.

Mayor Teresa Isaac, who sits on the health board, was absent from yesterday's meeting.

In the drafted regulation, the board said it found the arguments presented by the Lexington-Fayette County Food and Beverage Association at a February public hearing to be "irrelevant." The group has been one of the ban's most vocal opponents.

The ban's detractors were "unpersuasive and lacking in credibility" by arguing that secondhand smoke was not dangerous, or that ventilation could reduce the health risks to safe levels, the draft said.

But the association's lobbyist, Gene McLean, warned again yesterday of language in existing state laws that he says precludes any local body from regulating tobacco use. He said he wanted the council and health board to hire outside attorneys to advise on whether they have the authority to enact the bans, he said in an interview.

"The health board has already made its decision, even before the process began," McLean said. "The public hearings were nothing more than a charade."

It was a hard crowd on the other side, too. Anti-smoking forces chafed at the council service committee's delay.

"They're prolonging something they've already studied," said Kathy Tabb, an ovarian cancer survivor who is pushing for the ban. "I don't see how 60 days will give them more information than they already have. This is worse than the U.N. inspectors."

The services committee agreed to form an ad hoc committee of seven council members to craft their ideal ordinance or even propose rejecting the ban entirely within two months. Over the past few months, the committee has considered four ordinances that vary widely in their scope, from banning smoking in restaurants and bars to all indoor workplaces.

A new committee was needed to reach a compromise, said Councilman Bill Farmer. While the council could possibly have eight solid backers for the ban -- the count needed to pass an ordinance -- the number is deceiving: Members aren't agreeing on what kind of ban they want, Farmer said.

For example, Councilman Fred Brown moved yesterday to ban smoking in all restaurants and bars and couldn't muster a single person to second the motion.

Brown urged his peers to act now. "This is just a delay tactic," he said. "We're shirking our duties. It's time to either vote something up or vote something down and get on with our lives."

Reach Laura Yuen at 859-231-3309; 1-800-950-6397, Ext. 3309; or lyuen@herald-leader.com.

---
March 20, 2003
The Public Debate
Smoke 'em if you got 'em

---
March 13, 2003

Last night at Joseph-Beth Booksellers, a town hall meeting was held on the proposed smoking ban in public places such as bars and restaurants. For all the posturing, arguments for and against the ban, and trading of barbs, the consensus seemed to be: let the citizens decide. The idea of a referendum and letting the voters of Lexington decide the matter was one that garnered much applause, and left some appalled.
The council has yet to vote, but this definitely will not be the last opportunity for people to speak on the issue, as a public forum will take place Tuesday, March 25th, at 4pm in council chambers.
To participate in Ace forums on these and other local issues, visit aceweekly.com (include your name, age, and occupation when submitting responses.)
To submit an advocacy/activism activity or event for Quickies, email rkirkland@aceweekly.com, or editor@aceweekly.com.
---
March 12, 2003

Council schedules meeting on ban

The Urban County Council's services committee agreed yesterday to hold at least one more public meeting on the smoking ban issue.

The meeting is scheduled for 4 p.m. March 25 at Government Center, 200 East Main Street, and will go before the entire council.

Yesterday, the committee agreed to debate the following options for a ban that would prohibit smoking on varying levels:

in all bars and restaurants;

in all public buildings, such as bars, restaurants, bowling alleys and bingo parlors. "Dwellings" such as hotel rooms would be exempt, as would tobacco stores.

in all bars and restaurants, except for those that can prove financial hardship while it adjusts to the ban by creating designated smoking areas. Those businesses would have no longer than one year to be phased into the ordinance.

Under the last two proposals, smoking areas in restaurants and bars could be exempt from the ban if they are physically separate from all other areas and independently ventilated.

The council also agreed to again look into the possibility of a public referendum. That measure would allow voters to decide the issue but has been ruled out by critics as unrealistic because it would require a change in state law.

Also yesterday, the Fayette County Board of Health agreed to table discussion of its own drafted regulation that would clamp down on smoking in restaurants and bars.

Board members agreed to wait and determine the direction of the council on this issue. The board could re-examine the health regulation at its April 14 meeting.
---
Smoking Ban Proposal Heats Up In Tobacco Belt
By Bruce Schreiner.
Sandy Fields, owner of downtown Rosebud Bar, said the smoking prohibition would put her out of business. The issue cuts deeper than economics -- Fields said the ban would infringe on personal rights, an erosion perpetrated by people wanting to impose their lifestyles on others.
---
KENTUCKY SMOKERSí CONTRIBUTIONS TO THE STATE ECONOMY - 2002
CIGARETTES DONíT PAY TAXES Ė SMOKERS DO!!
Tobacco Taxes & Revenues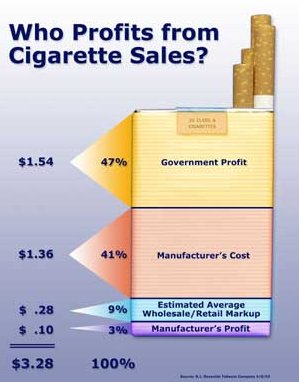 Select Your State For More Information.